Blizzard ha desvelado que ´World of Warcraft: Legion´, la sexta expansión del incombustible juego de rol multijugador masivo online, llegará el 30 de agosto. ´Legion´ se adentra en un conflicto entre la Alianza y la Horda donde la cruzada de la Legión Ardiente contra la humanidad alcanza nuevas dimensiones. El contenido permitirá en todo caso subir directamente al nivel 100. Es decir, para ayudar a los nuevos jugadores a enfrentarse a los retos que ofrece la expansión, cualquier personaje se podrá subir directamente al nivel 100, incluso si se trata de un héroe recién creado.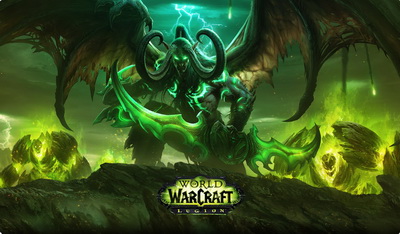 Para la ocasión, el juego contará con varias ediciones que estarán disponibles en su lanzamiento. 'Legion' contará con una Standard Edition (tanto en versión física como digital) que podrá ser ampliada más a Digital Deluxe Edition e incluirá: Montura acechador vil Illidari y mascota Dentellón (World of Warcraft); Montura acechador vil (Heroes of the Storm); Retratos de protoss viles (StarCraft II); Alas del Traidor (Diablo III).
el mismo modo también estará disponible una Collector´s Edition, de venta exclusiva en tiendas que incluye los obsequios digitales de la Digital Deluxe Edition, así como un libro de ilustraciones, un set de dos discos "Entre bastidores" en formato DVD/Blu-ray, un CD con la banda sonora original y una alfombrilla de ratón de Legion.
Con la reserva de 'Legion', también se obtendrá acceso anticipado al cazador de demonios antes del lanzamiento de la expansión. Esta nueva clase, vuelve el poder de la Legión Ardiente en su contra. Como clase heroica, los cazadores de demonios empiezan su aventura en un nivel superior al de otras clases. Durante el periodo de acceso anticipado que tendrá lugar antes del lanzamiento, los jugadores podrán completar la experiencia de inicio y llegar al nivel 100.
'World of Warcraft: Legion' contiene todo tipo de características y contenido para transformar a los héroes de Azeroth en avatares y asesinos de la Legión. Entre las características principales destaca la nueva clase heroica: cazador de demonios; armas artefactos, un conjunto de armas tradicionales de cada clase que se ajustan a las necesidades del jugador; nuevo continente: las Islas Abruptas; subida de personaje a nivel 100; sede de clase, una nueva característica que permitirá reclutar PNJ de la orden para que cumplan misiones además de los nuevos sistemas de honor JcJ, una serie de poderes específicos diseñados para enfrentamientos en arenas y campos de batalla.